Teeth Whitening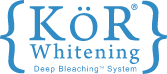 You deserve a bright, confident smile. Professional, in-office teeth whitening with KoR Whitening is safe, simple, and one of the fastest ways to improve the beauty of your smile.
KöR Whitening Deep Bleaching System
The KöR Whitening Deep Bleaching™ System developed by Dr. Rod Kurthy is a proven, permanent whitening system from Evolve® Dental Technologies, Inc. Considered to be the most reliable and effective bleaching system ever developed, yet it yields reliable, consistent results every single time.
KöR Whitening was ranked highest as the most effective, reliable way to whiten your teeth permanently by a respected dental products journal. No other dental product of any type has been ranked higher than KöR Whitening, and KöR is the only system to ever receive a rating of "Best Product".
Although there are different levels of whitening, most cases involve 2 weeks of whitening at home using custom bleaching trays and a 90 minute in-office whitening visit. The advantages of KöR Whitening are:
Beautiful, healthy and natural looking white teeth
Effective on tetracycline-stained (dark) teeth
Little to no sensitivity
Comfortable, easy process
Entirely safe for teeth and gums
Perfect for ages 14-90
With dentist supervised bleaching, teeth can be properly assessed to have the correct chemical concentration, correct method and length of treatment and to be sure that the patient is a candidate for whitening.
Contact us to schedule a free consult!